Folks, we've got an important decision to make.  We need to settle the issue of choosing a mascot for the 2010 season.  As everyone within earshot of Hahira knows, we didn't do so well last year.  The fortunes of the program may well be at stake as we look towards the beginning of spring football and beyond.  Do your part, Dawgnation.  Vote. 
May I present the candidates: 
EvilDawg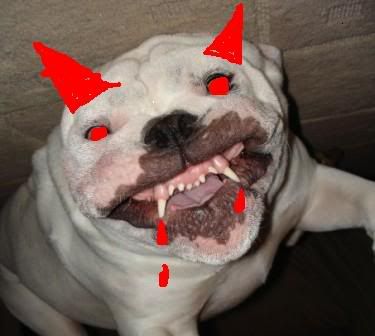 A Helluva Dawg.  Seriously.  Not sure where he came from.  Some people think Macon because in July, there ain't no city hotter in the entire state of Georgia.  He thinks "Smokey" is a "douche" (his words, not mine).  The only person in the world he'll let touch him is Mike Bobo, as long as Bobo is sportin' the "Frank Zappa" look (who, we all know, was sorta evil.  Well, at least Tipper Gore thought he was evil).  Look closely:  This Dawg has razor stubble. 
L'il UGA VIII Puppy (OMG...he'ssocute).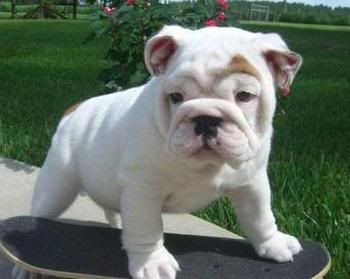 Can you imagine trotting out l'il UGA 8.0 out there as a little puppy?  Even our competition might just relax a bit before kickoff.  I can hear a collective "Awwwwwwwwww....OMG.....he'ssocute" by just about every head coach we'll face except Urban who would just as soon point a steely finger at l'il UGA and then try and kick him.  But it would be cool to watch l'il UGA grow up before our very eyes and rack up the championships and chicks.  By the way, this picture is not an actual picture of the real UGA VIII puppy.  That is very highly classified stuff.  But, the dimensions and cuteness factor of this particular bulldog are said to be "in the ballpark."
Russ
Russ, the half-brother of UGA VII, is two-and-oh, baby.  He's one bad 5 year old.  Just ask Tech.  Washaun and Caleb may "Run this State", but Russ runs the hearts and minds of Dawg Nation at the present time.  He may not be a perfect white English Bulldog, he may not be as big as some of his brothers, half-brothers and cousins.  But Russ is undefeated and you never, ever mess with a winning streak.  I say give him a full year to strut his stuff and pee on some hedges.  He's earned it.
Last but not least:
UGA VIII (the full grown version).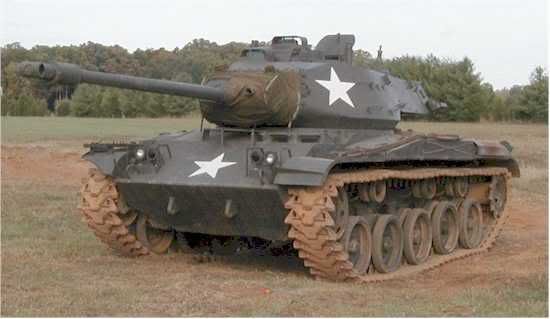 This is actually a picture of an M41 Walker "Bulldog."  Anything that has the words "Walker" and "Bulldog" in it absolutely needs to be considered as a Georgia mascot.  I'm sure UGA VIII, whenever he is prowling the sidelines, will be about as effective and intimidating as one of these.  I loves me some armor, baby.
Vote: