Welcome to Week Seven. "Screw 'Zou!"
Welcome to the Week Seven edition of "Is It Saturday Yet?", my weekly two-part article featuring my predictions and picks for the upcoming week around the conference and a recap of the previous week's results. I hope it holds you over till game time, and I hope you have almost as much fun reading this as I do writing it. As always, feel free to comment, weigh in, and leave suggestions! Now, without further ado...
**WEEK SIX - RESULTS & RECAP**
DiemonDawg's Week Six Record: 5-1. (And fun fact: the one loss was a game that I attended...go figure!) Let's take a look back. It was an interesting slate of games for sure. After this long week (and after doing never-ending legal citation exercises tonight) I'm feeling a bit sharp-tongued and sassy today (hence this week's secondary theme: "Sorry Not Sorry"), so bear with me :)
1) Georgia State at #1 Alabama.
Colorado State the Panthers are not. It feels strange to say that this was Alabama's first dominating game of the season, but it was. Keep in mind the point differentials for each of the Tide's previous four victories: 25 (Virginia Tech), 7 (Texas A&M), 25 (Colorado State), and 25 (Ole Miss). In the latter two games, Alabama had glaring weaknesses on offense - against Colorado State, they couldn't convert on third down until late in the game and couldn't break away from an uncomfortable 17-6 lead until the fourth quarter. Similarly, against the Rebels, the Red Elephants held a tenuous 9-0 lead at the half from field goals and did not score touchdowns until the second half.
Alabama needed to demolish a cupcake to quash the rumblings of being "too soft", and despite missing a star player in Ha-Ha Clinton-Dix, that's exactly what they did to poor ol' G-State.
DeAndrew White makes a hell of a catch...jeez.
Also, in sort-of-Alabama-related news more interesting than this game was, AJ McCarron's ex girlfriend made a sexy burger commercial. Apparently sexy burger commercials are a thing now. That was news to me. Thanks, Hardees.
DiemonDawg's Pick: "Alabama will prevail by at least 35-40."
Final Score: 45-3, Bama. Georgia State makes bank by selling their souls to the devil. (Yes, that was a Nick Saban joke.)
You shut your punk mouth, DiemonDawg! Sorry not sorry, bro. (via www.sectalk.com)
2) Arkansas at #18 Florida.
Tyler Murphy had a pretty good showing with this one: 16/22 for 240 yards and three TDs, no picks. WR Solomon Patton starred here though, with six catches for 124 yards and two TDs. Maybe it was against Arkansas, but both of these guys seemed to give the Gators a spark, along with the defense, of course, so keep your eyes on the Gainesville 'Gators for the next few weeks. They look more threatening now than they did before Driskel went down, but again, we'll see if this is an actual reflection of the team's growth or if it was just a good one-game performance. Stay tuned.
DiemonDawg's Pick: "Florida by 10."
Final Score: 30-10, Gators.
3) #24 Ole Miss at Auburn.
This was my one loss for the week, and this was also a game I attended thanks to a friend and classmate of mine offering a free ticket. It was my inaugural visit to the Plains, but I'll spare the details of my thoughts on that for another conversation.
But I will tell you this about my visit: I will never go back unless it is for a Georgia game. There was no worse feeling than sitting in Jordan-Hare, surrounded by Auburn fans while constantly refreshing my phone with my stomach in knots while the Georgia-Tennessee game came down to overtime. (And thanks to a comment that leedawg made a few weeks ago, one that I found hilarious, I will never hear that damn "War Eagle" song without the words "war pigeon poop down the field" ever again. My juvenile sense of humor appreciates it, so thanks leedawg.)
Anyway, about this specific game: from an in-person perspective, the Rebels are building an arsenal of tools, but ever since their bye week before Alabama, they have not been able to execute. QB Bo Wallace has decision-making issues and has appeared easily rattled in these last two games. I think if Hugh Freeze wants to succeed in building Ole Miss to his vision, he's going to need to look for a better quarterback this offseason in order to establish the Rebels as a competitive force in the West next year, even if not as a contender. They attempted a rally at the end, but they simply never quite had the firepower or confidence to follow through with it. But I expect within the next few years, the Rebs will be an intriguing team to watch in the West.
As for Auburn, they looked good and bad all at once. QB Nick Marshall did not appear to be 100%, but he had a field day on the ground anyway, with 14 carries for 140 yards and 2 TDs. In addition to Tre Mason's 77 yards on the ground and 62 in the air, the Tigers proved too much for the Rebs in front of a loud and rowdy crowd. Keep them on your watch list as well. You know they will want a piece of us, and the home crowd was loud. They are all riding the "Gus Bus", as I saw on several t-shirts hanging from the merchandise stands.
The up side? I was able to amuse myself at the end of it all, despite being surrounded by chants of "War Eagle", by coming up with a great joke in my head. Great, but also probably incredibly offensive to people, so I'll just save it for private conversation with my friends who share a guilty pleasure for non-PC humor. Sorry not sorry - life's too short to be a short-fused, oversensitive pain in the ass. :)
He heard my joke. Sorry not sorry, bro. (via www.thewareaglereader.com)
DiemonDawg's Pick: "Rebels take the road win by a field goal."
Final Score: 30-22, Auburn.
4) #10 LSU at Mississippi State.
Despite the lopsided final score, this one actually got interesting for a while. Unfortunately for the Bizarro Bulldogs, who managed to hang close with the Bayou Bengals for the first 45 minutes, they forgot that there are four quarters in football.
By Halftime: 28-23 LSU after some back and forth with the Bulldogs of Starkville.
3rd Quarter: both squads managed just a field goal. 31-26.
4th Quarter: LSU scores 28 unanswered. Well, so much for this game being competitive.
DiemonDawg's Pick: "LSU - two TDs over the Magnolia State Mutts."
Corn Dawg celebrates a win over the Dingalingin' Dawgs. (via cdn2.sbnation.com)
Final Score: 59-26, LSU.
5) Missouri at Vanderbilt.
James Franklin had one hell of a day. One accounted for four TDs with 278 yards plus 63 on the ground. The fierier (sp?) buttholier (sp?) one probably is having a crisis right now after his squad allowed 51 points, the highest total hung on them since the Gators did it in 2010.
Happy thoughts, Vandy, happy thoughts. (via towerofbammer.com)
Both teams face Georgia next. Mizzou this weekend, and Vandy after they take a bye.
DiemonDawg's Pick: "Mizzou by 10."
Final Score: 51-28, Mizzou.
6) Kentucky at #13 South Carolina.
This got way too close for comfort. Newsworthy: Clowney was out. From ESPN:
"But Clowney has not looked like that player through five games this year with 12 tackles and two sacks. He's dealt with dehydration and a flu bug against North Carolina, another virus against UCF last week and bone spurs in his right foot throughout the fall. Clowney's also watched opponents play away from him and go for large gains as some of South Carolina's new defensive starters couldn't make plays."
Well jeez. Someone put this boy in a bubble!
The Wildcats rallied in the 4th quarter after being down 27-7. This is on the road, people. But it all goes back to the old cliche: "any given Saturday in the SEC..." Anything can happen.
DiemonDawg's Pick: "Carolina by 24"
Final Score: 35-28, South Carolina.
7) Georgia at Tennessee.
Boy, they did to us what South Alabama did to them, minus the whole injury part, which was of course the big story with this game.
Let's not talk about this game anymore. Ever again. Instead, take a moment to marvel at this Damn Good Dawg before we move on. The Force was with him...(yes, Conley, that was just for you, bro!)
How 'bout this Dawg, y'all? (via images.ftw.usatoday.com)
Final Score: 34-31, DAWGS in OT.
**WEEK SEVEN - SEC ACTION**
This week, we've got ourselves a sweet helping of conference games. Let's dig in to this week's slate.
1) #14 South Carolina at Arkansas, 12:21PM, ESPN3.
The Gamecocks join us this week in falling a spot in the rankings after an uncomfortably close victory over an opponent likely considered "inferior" by the pollsters. While our top headline is our sudden depth issues due to injury, the Palmetto State Poultry face an interesting conundrum of their own. Their defense is severely underperforming to expectations, and there are widespread rumblings that Jadeveon Clowney is playing his own doctor and reserving himself for the NFL Draft.
As far as Arkansas, Bret Bielema is hoping the boys who showed up in giving Texas A&M a scare will give Carolina hell. If Kentucky can come within a score of the Gamecocks on the road, what can the Hogs do at home? How much better are they than the Wildcats, and how will the Cocks adjust this week? Will Clowney play? Connor Shaw is back in, so that presents a problem for the Red Pigs. But it's Homecoming in Fayetteville - can the Hogs rise to the challenge? Will they?
DiemonDawg's Pick: South Carolina with another close call - 'Cocks escape Fayetteville by 6.
2) Western Carolina at Auburn, 2:00pm, ESPN3.
This should be a cakewalk for the Tigers. The Catamounts (I have no idea what the hell that is) are last in the SoCon with an 0-3 conference record and 1-5 overall record. I don't even see a watered down version of Colorado State at Alabama here.
Time to get on the got-dang Gus Bus!
(via www.tigerrags.com)
(via www.toomersdrugs.com)
I can't even tell you how many variations of these pieces of "art" I saw last weekend. (via skreened.com)
I hate to be the bearer of reality, but this is what the Gus Bus actually looks like.
The Original Gus Bus... (via si0.twimg.com)
The Gus Bus, souped up after "Pimp My Ride - Auburn Edition". (via mayhem-chaos.net)
It is great to be a Georgia Bulldog.
DiemonDawg's Pick: The Aubies stomp the Catamounts (without penalty) by 30+. Gus Bus rolls.
3) #17 Florida at #10 LSU, 3:30PM, CBS.
Outside of our tilt with the Columbian Tigers, this will be an interesting one to watch: a fire-at-will offense vs. a gritty defense.
Tyler Murphy and the Gators are looking to erase the dead Gator offense meme against a tough young LSU defense looking to grow up. Zach Mettenberger seeks his first win of the season over a ranked conference foe, and in this case, one renowned for its defensive prowess.
This will be a test for both squads, and additionally, it will likely set the tone for the rest of the season for both teams. A Florida victory would be huge for the morale and confidence of Muschamp's squad, and it would set the stage for the Gators making a comeback for a shot at the SEC East crown. They will face Missouri on the road, enjoy a bye week, face us, Vanderbilt in the Swamp, and South Carolina in the Cockpit a week after - four straight Eastern foes, two (possibly three) of which could either pose problems for them or set them up for an improbable conference title run.
A Louisiana feline puts a Gator in its place. (via stream1.gifsoup.com)
DiemonDawg's Pick: Death Valley in the afternoon-early evening? I think Florida's hungry, but I'll take the Bayou Bengals by 10.
4) #1 Alabama at Kentucky. ESPN2/WatchESPN.
A tough road match! Roll toughschedule roll!
As a disclaimer, Kentucky has shown life, though, so never count them out to give you a scare (I know we Dawgs know that story quite well.) The Wildcats gave Louisville a scare, and last week they scored 28 to South Carolina's 35. That's either a testament to South Carolina's D issues, to Kentucky's attitude when facing a big opponent, or maybe both.
I would like to see some intrigue here, but I think Alabama's D will have no problems with this one.
DiemonDawg's Pick: TAHD GUNNA ROWL, PAAAAWWLLL. Bama by 17.
5) Bowling Green at Miss State, 7:30PM, ESPN3.
I'm not going to bash MAC teams as cupcakes anymore. They like to throw a wrench into the cupcake narrative, and the Falcons are tops in their division and conference right now.
That being said, the Bulldogs need something to feel good about. In front of the home crowd, they're gonna want to pull out as many Ws as they can before season's end. I don't think Mullen's coach here for much longer.
DiemonDawg's Pick: Clanga clanga cowbells. State struggles but prevails by 13.
6) #9 Texas A&M at Ole Miss, 8:30PM, ESPN/WatchESPN.
I am looking forward to this one. (Of course there's some bias because I'm actually attending this one.)
Texas A&M brings the reigning bread Heisman winner as well as a craptastic defense. (Don't get offended Ags, ours sucks too right now.)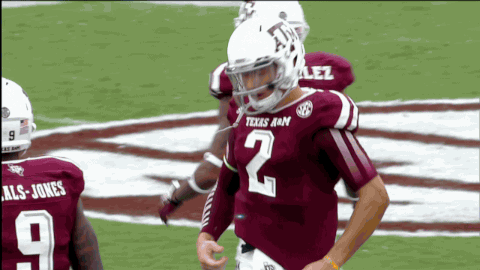 I'm so money, they print ATM on my sleeves! (via cdn.bleacherreport.net)
I don't know why. It seemed appropriate. (via fansidd.com)
DiemonDawg's Pick: A&M by 10.
7) #25 Missouri at #7 Georgia.
The Georgia Bulldogs return to Sanford Stadium after a hard-fought, casualty-riddled victory over the Tennessee Vols. They will be facing their fourth ranked opponent in six games after going 2-1 against three top-10 squads in September.
Welcome to Grown Man Football. We have faced the toughest schedule in the South, and we have overcome significant adversity through this season. Can our Damn Good Dawgs do it again?
Some Munsonistic tidbits courtesy of the "Worldwide Leader":
Against Vanderbilt: "Franklin guided Missouri on scoring drives on the first six Tiger possessions, which resulted in three touchdowns and three field goals. Missouri out-gained the Commodores 285-97 in the first half in taking a 30-7 lead."
Another Vandy game tidbit: "When linebacker Kentrell Brothers intercepted Vanderbilt's Austyn Carta-Samuels midway through the first quarter, it gave the Tigers their 35th consecutive game with a takeaway. Missouri is averaging 2.5 interceptions per game."
Dawg help us. Also, dear Defense: please take note.
Please don't let this happen. (via i.minu.com)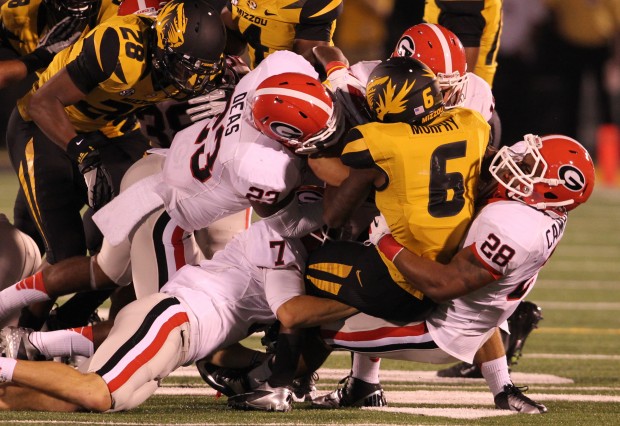 Do this instead.
But alas, we are doomed, y'all. (via cdn.bleacherreport.net)
Doomed.
Please do your part, friends. Round up your amigos, share these sentiments with the world (side note: I am in awe by the response - that post has been shared nearly FIVE HUNDRED times on Facebook...thank you fellow Dawgs for spreading the word!), and let's get these Dawgs pumped up! People are already taking notice of Dawg Nation's heart and will to win. Maybe despite being in the SEC, we aren't the bad guys after all.
And remember, we don't play Old Man Football at Georgia.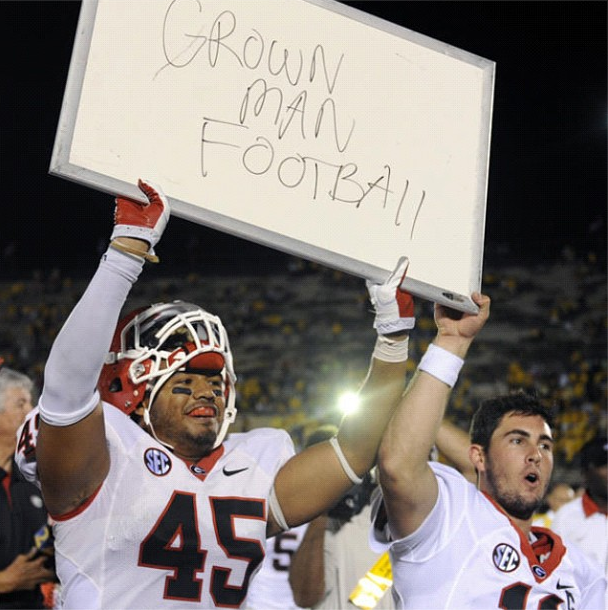 We play GROWN MAN FOOTBALL. Because the Georgia Damn Bulldogs are GROWN ASS MEN. Take note!
Let's do this thing.
GO DAWGS! Beat Mizzou!