In which we take a quick look at how our 2011 opponents fared during the preceding week.
Suddenly people are seriously talking about us winning the East this year. That may be a little premature, but it does give us a good reason to look around and see what our former and upcoming opponents have been up to, doesn't it?
Vanderbilt Commodores (3-2, 1-2 SEC) lost to the Alabama Crimson Tide, 0-34. This wasn't a game so much as a bludgeoning. The Commies tallied just 190 total yards, converted just 10% (1-10) of their third downs, and turned the ball over twice. The Tide rolled up 34 points without even breaking a sweat. I guess all this week's optimism is fairly justified.
Florida Gators (4-2, 2-2 SEC) lost to the LSU Tigers, 11-41. I wonder if they're thinking about changing their school colors to black and blue after the last two weeks. I actually made it down to Red Stick for this one, and I assure you that the only thing better than the gumbo at a Cajun tailgate is watching the Gators get beaten senseless in person. Florida is now down to their third string QB, and their defense is not looking much better. It was absolutely baffled by LSU's innovative "run the ball 80% of the time" strategy. . . . But you sort of know that they'll get everything figured out in the next two weeks, don't you?
New Mexico State Aggies (2-3, 0-1 WAC) had a bye. This cupcake looks no more or less appetizing than it did last week, which is to say, delicious.
Auburn Tigers (4-2, 2-1 SEC) lost to the Arkansas Razorbacks, 14-38. Wait. Florida and Auburn lost on the same weekend we beat Tennessee in Knoxville? That's right, and to make it even better, they both got creamed. Auburn's defense may be charitably described as porous. Arkansas rang up 438 total yards, and at one point Tyler Wilson completed nineteen straight passes. The one troubling aspect of the game is that Gus Malzahn's squad managed nearly 100 more yards on the ground against Arkansas (291) than Arkansas allowed against Alabama (197).
Kentucky Wildcats (2-4, 0-3 SEC) lost to the South Carolina Gamecocks, 3-54.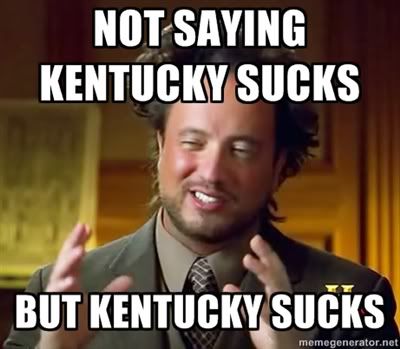 Sorry, guys. Basketball season starts soon.
Georgia Tech Yellow Jackets (6-0, 3-0 ACC) defeated the Maryland Terrapins, 21-16. Sure they won, but isn't funny how Tech's seemingly unstoppable offense stalls as soon as it runs up against even a halfway decent defense? (FYI, Georgia's defense is pretty darn good.) I guess there is a downside to drawing literally every play you run on a single sheet of paper.
Boise State Broncos (5-0, 0-0 MWC) defeated the Fresno State Bulldogs, 57-7. So, uh, these guys are pretty good, huh? Oh, wait, Ole Miss beat Fresno too and couldn't even get excited about their second win of the season? The Broncos are a genuinely great team, but playing these teams week-in and week-out leads to their annual slide down the polls.
South Carolina Gamecocks (5-1, 3-1 SEC) defeated the Kentucky Wildcats, 54-3. Saying goodbye to Andiambro was the big story of the Gamecocks' week, and it's hard not to think that Connor Shaw's 311 yards and 4 touchdowns against the Wildcats weren't as much prerequisites to the dismissal as Garcia's sixth (!) alcohol-related offense in four years. There's a reason that it took Shaw this long to unseat someone with whom the Ol' Ball Coach had such a tumultuous relationship, though, so I'm feeling better and better about South Carolina's inevitable end of year slide.
Coastal Carolina Chanticleers (4-1, 1-0 Big South) defeated the VMI Keydets, 34-10. The Chanticleers coasted to an easy victory in their first Big South contest. I can't think of anything witty to say, so I'm just going to post this video again.
Mississippi State Bulldogs defeated the UAB Blazers, 21-3. Mississippi State's offense continues to struggle, failing to score any points in the first half against the winless Blazers. Backup QB Tyler Russell was responsible for all three of his team's TDs after replacing Chris Relf, so it looks like the Bizarro Bulldogs might have a new starting signal caller for the remainder of the season.
Ole Miss Rebels (2-3, 0-2 SEC) lost to the Bye Week. Is it crazy to think that the Right Reverand Nutt can pull off an upset of the Tide this week now that he is at the height of his Giggity powers, about to face a seemingly unstoppable foe with his back up against the wall? Yes. Yes, it is. I genuinely fear for the RebelBlackBears' safety. So, which SEC school hires Houston Dale next?
It's hard to believe that the season is already halfway over. It's time for us to buckle down and help our team by watching as much football as possible over the next few weeks.
GO DAWGS!